Natural stone tiles Panu – mosaics tiles made of pebble stones.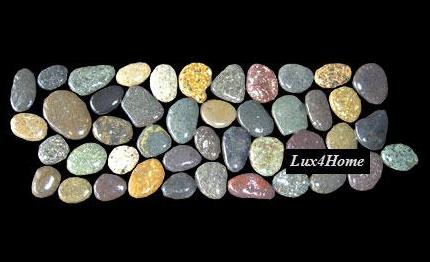 Mosaic model: Pebble tiling Panu
Packing: crate approximately one square metre.
Tile sizes: 10×30 cm, 15×30 cm.
Tile thickness: 8 – 10 mm.
Single pebble stone size: various.
Pebbles colour: mix of colours.
Application and usage: pebble tiles for floor, walls, flooring, chimneys, pavements, swimming pools, SPA furnishings, bathroom interiors etc.
Pebbles for bathroom and interior design
Pebble tiles Panu (pictured are pebbles dipped in water) are mixed but unique single pebble stones on mesh tiles. Pebbles stones can act as supplement for interior decorating – be a decorative element or, as often done, fill the whole surface of walls, floors, swimming pool steps, SPA or sauna. They main properties are everlasting naturalness, crowned pebbles massaging your feet during walking on tiles barefoot, durability and uniqueness.
For detailed information about Panu pebbles tiles, or our natural stone products for interior decoration, bathroom interiors, or interior design please see our wide range of stone products (over a thousand – stone sinks, stone baths, stone tiles, wall claddings, tiles and marble tiles) at www.Lux4home.co.uk or  contact Lux4home directly by filling our contact form.