Pebble tiles Sumba Speckle – Pebble stones on mesh.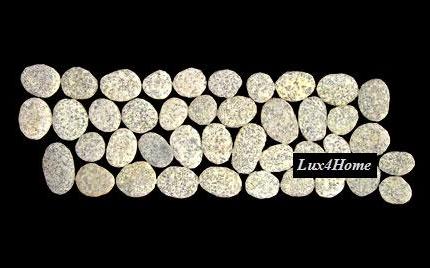 Decorative pebbles for bathroom design
Pebble tiles Sumba Speckle just as any other of our pebble flooring collection are used as a decorative element of bathroom interiors, terraces, steps, houses or gardens. The mosaics tiles consist of single pebble stones on a mesh, forming a tile. Our pebbles look great as tiles for floor, tiles for bathroom or wall tiles. Their charm and uniqueness is all because of natural stone looks and the great feel of rough surface.   Pebbles are a great substitute for modern bathroom designs that are cold, dull and lack character, where natural stones and pebbles create a warm and unique environments that really catch an eye.
We encourage you to contact us about our range of natural stone tiles and mosaics for bathrooms, interiors and gardens. We are sure that some of our marble tiles, pebble mosaics or stone parquets will catch your attention and prove to be a great decorative element for you.
To contact Lux4home, please visit our website at www.Lux4home.co.uk or drop us a message at Contact@Lux4home.co.uk.