White marble tiles and pebble tiles
For those of you looking to enhance your interiors with natural stone tiling, but prefer white tiles, Lux4home offers a few choices. Let's take a closer look.
White marble tiles

Our marble tiles are great for any interior or bathroom, plus they can be fitted on the walls and floors as well. This gives you a wide range of applications, as well as many design possibilities. Our marble tiles come available in many sizes: 10×30, 15×30, 30×30 and 50×50 cm. Additionally, the gaps between single pieces of marble are kept to minimum, so that after applying grout the charm of natural stone remains, and stone tiles create a seamless pattern.
White pebble tiles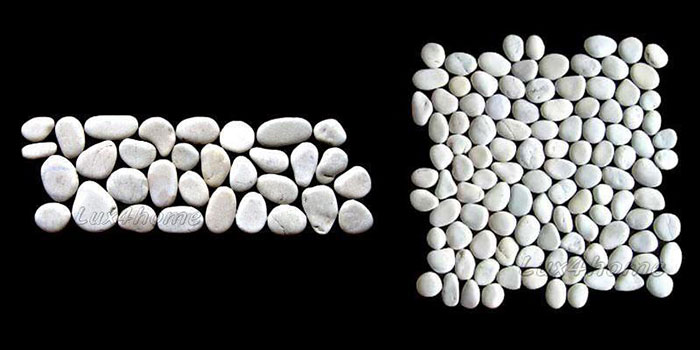 Our pebble tiles can be fitted on floors and walls. They proved to be great in interiors, but especially in bathrooms, where fitted on the floor they gently massage your bare feet, plus their natural slightly rough surface prevents the floor from becoming slippery while wet. Our pebble tiles available in white come in sizes 10×30, 15×30 and 30×30 cm.
White stone claddings

Our stone claddings are our latest hit and best seller. They come in various colours, but white stone claddings are the most popular among our customers. Stone claddings from Lux4home are available in a few patterns, with differing size of a single brick. Stone claddings are great fitted on walls, chimneys, fire places, or even in bathrooms.
Where to buy our white stone tiles?
If any of our stone tiles caught your eye, please contact us by writing to contact@lux4home.co.uk, or please visit our website at www.Lux4home.co.uk.
Web design by Bogumil Widla.